Candora boutique in Paris has reopened, while applying safety measures to avoid the diffusion of Covid 19.
Bookings for our workshops can be rescheduled, without penalty and without a time limit.
We have just opened our e-shop on this website where you can order a fragrance you created at Candora.
Current time of delivery is about 10 days to Europe and 2 weeks to reach the US.
We look forward to your visit and to seeing the smiles that are created by the joy of custom perfume creation !
The Candora Boutique
La Maison des Parfums Candora opened in 2017. The Boutique is in the very heart of Paris, close to Notre Dame cathedral and the Ile St Louis.
Come discover our fragrances, scented candles, and even a few surprises like our perfumed chocolates !
Participate in our perfume Creation Workshops which take place at the Boutique. Both men and women can create a unique fragrance.
As soon as possible we will open from 2:00 pm to 7:00 pm from Tuesday to Saturday and by appointment for private workshops.
Be your own perfumer ! Candora is the first French brand fully dedicated to offering you the opportunity to create your very own fragrance.
Candora has a collection of 21 exceptional fragrances which you can play with: spray some Oud together with the Rose or Iris, add a touch of Wild Herbs. You can also mix them into the blending bottle to create your unique perfume, one that fits your tastes, your mood, your personality.
Create your fragrance in 10 to 20 minutes at the Candora shop, 1 rue du Pont Louis-Philippe in Paris.
Participate in one of our Perfume creation workshops : an innovative way to discover the world of perfumes and Parisian refinement. For 2 hours, you will embark on an imaginative and inspiring journey while creating your personalized fragrance.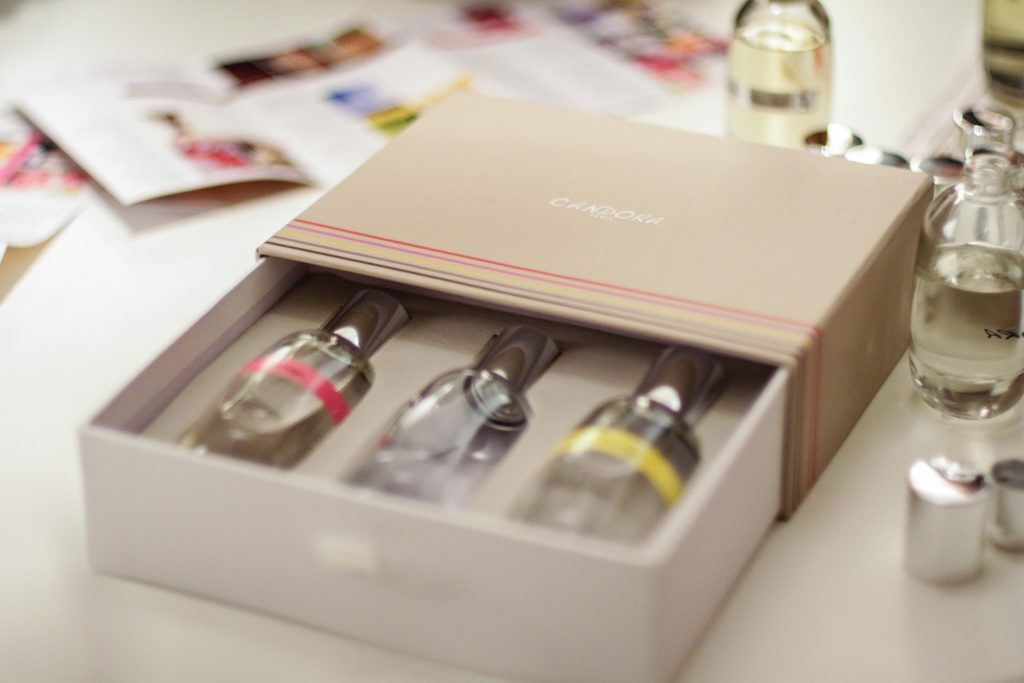 Perfume Creation Workshops
Workshop in English open to all : Tuesday to Friday at 2:30 pm, Saturday at 2:00 pm, for availability and other sessions, check our calendar.
Private sessions by appointment.
Starting at 79€
Our Perfume Creation Workshops