MAKE YOUR OWN PERFUME AT OUR WORKSHOP OPEN TO ALL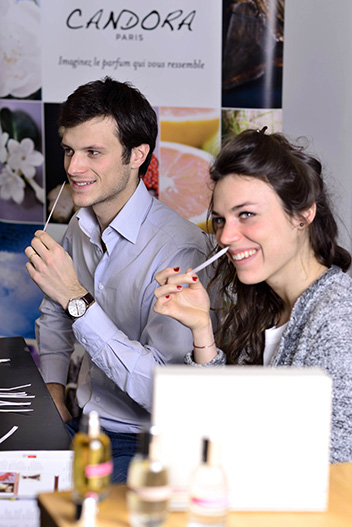 You may be interested in :
Embark for 2 hours on an olfactive journey to make your own perfume, with people with whom it will be interesting to exchange on olfactive preferences which are so influenced by cultural and personal experiences.
During the first part of the workshop, you will learn about the fascinating world of perfumes : their History, the secrets of their making and the mysteries of olfaction. You will also start to entice your nose with new scents and challenge your brain to recognize familiar smells.
The second part is more "hands on" – or "nose-on". You will make your own perfume selecting your preferences and with the help of our perfume expert you will make your blend in a test tube. You assess your creation and have a chance to modify the balance after testing it on your skin. Finally you will fill the 50ml (1,7 fl oz) bottle you will proudly leave with. Your very own perfume, as unique as you are !
The last touch of customization ? You can choose the option to have your bottle engraved  with your name or the date, or even the name you will choose for your perfume. Amongst the most original names were : "Lancelot du Lac" or "Leaves of Grasse"…
Our workshop is very participative, it is not possible to "just attend", we can only accept paying participants who will create their fragrance.
Our workshops in English take place at the Candora Boutique or at the Espace Candora, both are in the very center of Paris, you can walk from one another within 10mn.
Reviews of our workshops to make your own perfume
"This workshop was fantastic. An amazing experience to be able to learn about the history and science behind parfumes. We got to make and take home our own personalized parfumes, so cool! The hosts were knowledgeable and very friendly, and the class was taught in English which was helpful for us! We had a lovely time and would highly recommend to others!"
Natalie, Mountain View, United States
"This experience blew us away. My niece and I learned so much about the creation of perfumes and we got to experience a true master of the craft. (…) The experience was a once in a lifetime opportunity. The atmosphere, the content of the presentation and the guidance in the creation of a perfume were all of the highest quality. It is an experience that can be appreciated by adults and 10+ children alike. My niece and I were both very impressed and very pleased with our perfumes. We've both worn it everyday since our experience."
MC, Atlanta, United States
"The whole experience was awesome!!! The class was great !!!! Everyone who comes to Paris needs to take this class !! It was so much fun !!!! So cozy and personal !!!"
Rachel