Ordering the fragrance you created at Candora, and our books
Want to be reminded of your customized fragrance formula?
If it was saved on our website or if we took a picture of your formula at the end of a Candora workshop we can re-send it to the e-mail address the formula was registered with, click on Retrieve my formula.
Prices include 20% Value Added Tax (VAT), 5,5% for books, except if you already signed in with an address outside the European Union, then prices are displayed without VAT. If you did not sign in yet, and your order is for shipment to non-EU countries, VAT will be deducted before payment.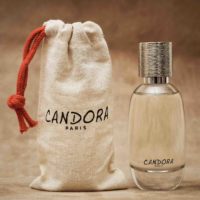 Our bottles now come with an elegant and convenient natural cotton pouch replacing the traditional box.
Shipping fees : 15€ to EU countries, 35€ to other countries, free shipping for orders above 200€.
We ship with Colissimo and local partners of La Poste in your country, USPS in the US. We need a couple of weeks to prepare your customized fragrance and then shipments normally take 6 to 10 days to reach you. For more details, please read our Terms and Conditions
To reorder your customized fragrance or to order one for someone else, you will find the different options below.
Do you need some help to use the refill bottle or to create your fragrance from the set you received ?