You love the Candora boutique ?
There is so much to do around the corner !
Candora boutique is in the heart of Paris, close to the Ile St Louis where the co founders Béatrice and Emmanuel grew up.
They are happy to share the places they love, their favorite shops and restaurants in the area. And if you are visiting Paris there are a few partners of Candora they wish to recommend.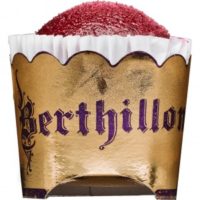 Do you know that the French word used for ice cream « flavor » is « parfum » ? Berthillon claims to prepare as much as 70 different « parfums »! Their ice creams reflect the same rules as those of Candora : being true to the ingredient, making it pure and simple thus magnificent.
Berthillon is in the main street of the Ile St Louis, a very nice 5 minutes walk from Candora shop. Emmanuel's favorite is « marron glacé », only produced in winter, if you can't get it try a scoop of pear together with one of caramel… an other expression of the art of blending !
Berthillon 31 rue St Louis en l'ile – Berthillon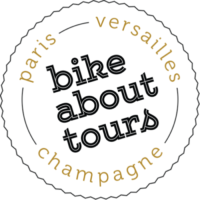 Paul and Christian have their headquarters in the same street as Candora shop, le Peloton café is a great place to have a bite before or after the bike tour around the city.
Emmanuel says that the perfect way to discover Paris is walking, but that was before the arrival of Bike about tours and their team of passionate Paris lovers. Do their tour at the beginning of your stay, you'll have a much better vision of the City. Our perfume workshop is the best resting and relaxing, seated, activity after a bike tour !
Le Peloton Café, 17 rue du Pont Louis Philippe – Bike about tours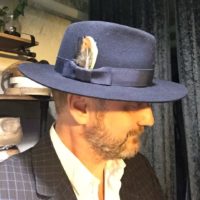 I love my hat !
I love my hat !
Hat and perfume are the two final touches that make a look unique, all the more so if YOU have made them in Paris. Thanks to Marie, founder and artistic director of Minime, what Candora does for perfume – allowing you to become a creator – is also possible for your hat : in 3 hours, you can hand make your own hat in Paris !
Chapellerie MiniMe Paris 75 boulevard de Sébastopol 75002 paris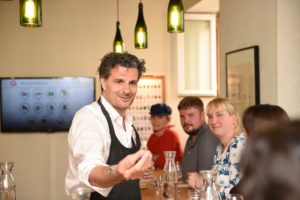 Wine smelling !
There is so much in common between perfumes and wines… both crafted with love, partly borrowed from Nature, partly the creation of men, owing so much to alcohol and glass bottles ! Thierry Givone who runs  « Wine tasting in Paris » is an ex corporate executive who decided to follow his passion, very seriously studied wines and now shares his knowledge. Rather than a patronizing masterclass, choose this pure moment of enjoyment, also getting to try different cheeses and the art of pairing them with wines.
Wine Tasting in Paris,  14 rue des boulangers Paris.